No matter if you're a site builder, software developer or just someone surfin' for something cool, you've reached the right place.
On this page you'll be able to find Dynamic HTML applications, Java applications, articles how to build simple and complex applications and a lot of samples. You'll be able to download certain tools that you can use on your own pages, all the samples may be used freely for personal use or you may change the source code for your own applications.
This page was designed and tested in IE5.5+, Mozilla 1.7+, Mozilla Firefox and Netscape 7.1. Other W3C compliant browsers might work but these are the one tested.
Latest news
System GV & ACADEMA Application Server
(Real estate appraisal modeling system)
Real estate appraisal (property valuation and land valuation) is the practice of developing an opinion of the value of real property, usually its market value. The need for appraisals arises from the heterogeneous nature of property as an investment class. No two properties are identical, and all properties differ from each other in their location - which is one of the most important determinants of their value.
Automated valuation models (AVMs) rely on statistical models such as multiple regression analysis, kriging (interpolation), co-kriging, pure geographic information systems (GIS) GRID analysis, logistic models, etc.. These methods are growing in acceptance, gradually. While AVMs can be quite accurate, particularly when used in a very homogeneous area, there is also evidence that AVMs are not accurate in other instances such as when they are used in rural areas, or when the appraised property does not conform well to the neighborhood.
The Computer Assisted Mass Appraisal (CAMA) Modeling System is specifically designed to satisfy Assessor's requirements, Mortgage Loan requirements directive (Basel II), Expropriation of property (request of Surveying and Mapping Authority of the Republic of Slovenia, supervisor Lantmäteriet Sweden), based on Hybrid models (multiple regression analysis, local robust multiple regresion analysis, thin plate spline interpolation on one or more independent variables, social-economic factors, etc.). The system provides modeling on market, income and other approaches utilized in determining the value of residential, commercial, industrial, agricultural and special purpose real estate properties.
Posted December 10th, 2009 by Webmaster
WebMet & ACADEMA Application Server
(Weather forecasting system)
Weather forecasting is the application of science and technology to predict the state of the atmosphere for a future time and a given location. Human beings have attempted to predict the weather informally for millennia, and formally since at least the nineteenth century. Weather forecasts are made by collecting quantitative data about the current state of the atmosphere and using scientific understanding of atmospheric processes to project how the atmosphere will evolve (Wikipedia).
And what we did about that? We helped our meteorologists to collect, analyze and display forecasts on the web and ... (see: WebMet on the Net)
Posted September 25th, 2008 by Webmaster
ALICE
(Academa's Lite Internet Client Environment) - Release: 1.4
New release replaced version 1.3 for public services. Recent changes: compact code, more components, XML support for web browsers, ...
Posted January 28th, 2008 by Webmaster
Satellite Mapping Application
(Tiny WMS/WFS Client) - Release: 0.3.05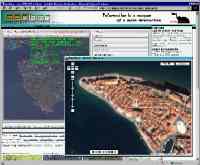 We created WMS/WFS client for testing purpose for our server during this summer. We put the link on Wikipedia. More than 2500 visitors per day is coming from that and other sites. So, I hope that the application, written in Flash, is useful. You can try it, click this link.
Overview: Satellite imagery and maps. Search for more than 8.000.000 geographic entities worldwide. Different sources merged together. Addons like: Google maps, Yahoo images search, geolocated WEB pages, ..., are driven from application.
Posted May 31st, 2007 by Webmaster
Samples Of Our Web Services
You can find some web services under the menu Web Services (see above), like Atomic Clock, our company location, Sky View Café or Unit Converter, but you should have Java enabled.
A bunch of "Web Services" can be found on our public web site GeaBios. GeaBios is an acronym for "Geo Enabled And Better Internet Oriented Services". Take a tour! More then 50 web applications, running over 200 GB of data. Update of data sets depends on data (30 minutes, every day, once a year). So, everything is time dependent.
Time and space are fascinating, especially for us, coming from common people. We just live under the stars. Blood, sweat, tears and blues (We ain't nothin' 2 loose) is our life.
Posted July 16th, 2004 by Webmaster

Several Languages Support
The layout manager supports several languages. It depends on page creator (author). If the page was created in several languages, you'll see the list of languages available at the left top corner under menu. Select the appropriate. No language indicator means that the page supports one language only.
This page supports two languages: english and slovene. Default language is english, but we will try to support our native language (slovene) as well.
Posted July 12th, 2004 by Webmaster
English Dictionary OnLine
This is an add-on tool that brings and links together the convenience of an on-line dictionary. With a double-click you can look-up the meaning of a word or a phrase. All that without leaving the Web page.
The handiest part of this add-on tool is a double-click lookup of the dictionary definition of the term. The term is reduced to singular or present tense to find its definition. If a term can have several meanings, all are listed. You can see synonyms in ordered by estimated frequency, and a lot more ...
Posted July 7th, 2004 by Webmaster
Weather Viewer 2.11
After a lot of work and lots of delays we're proud to finally introduce the new relesase of Weather Viewer. Many new features were added and it seems that it could be a proper tool for weather forcasting even for professionals.
Posted June 27th, 2004 by Webmaster
Ne glede na to ali izdelujete internetne strani, ste razvijalec programske opreme ali le srfate za čem cool, ste prišli na pravo stran.
Na tej strani boste našli aplikacije v dinamičnem HTML, javanske aplikacije, članke, kako izgraditi preprosto ali kompleksno aplikacijo ter veliko zgledov. Lahko si boste zložili kakšno orodje in ga uporabili za svoje lastne strani. Vsi primeri se lahko brez omejitev kopirajo in predelajo za vaše lastne aplikacije.
Ta stran je bila izdelana in testirana z IE5.5+, Mozilla 1.7+, Mozilla Firefox in Netscape 7.1 brskalniki. Ostali brskalniki po W3C pa lahko sicer delajo, a testirani so bili le našteti.
Zadnje novice
Sistem GV in ACADEMA Application Server
(Modeliranje za generalno vrednotenje nepremičnin)
Cenitev nepremičnin je postopek ocenjevanja vrednosti nepremičnine na osnovi tržne vrednosti, donosa, nabavne vrednosti, itd.. Cenitve postajajo nepogrešljive pri vsakem pravnem prometu z nepremičninami. S pravilno cenitvijo lahko ugotovimo kolikor toliko realno tržno vrednost nepremičnine. Potrebe po cenitvah naraščajo ravno zaradi heterogene narave nepremičnin in predvsem v pomoč v pogledu investiranja. Načeloma ne obstaja posest, ki bi bila identična, in praktično vsaka posest, že na osnovi lokacije, ki je eden od ključnih elementov, ima različno vrednost.
Avtomatski modeli vrednotenja (AVM) pridobivajo na veljavi. Naslanjajo se na statistične modele, kot so multipla regresijska analiza in/ali na geografske informacijske sisteme (GIS). V urbanih območjih, kjer je nepremičninski fond kolikor toliko homogen, taki modeli dajejo zadovoljive rezultate, v ruralnih območjih, pa so rezultati precej vprašljivi, ravno tako pri heterogenih nepremičninah, kjer nepremičnina ne odgovarja modelu, po katerem se vrednoti.
Razvili smo računalniško podprta orodja za potrebe modeliranje za generalno vrednotenje nepremičnin na osnovi zahtev Geodetske uprave Republike Slovenijei (svetovanje: Lantmäteriet Sweden) za potrebe obdavčenja nepremičnin, validacije hipotekarnih kreditov (Basel II direktiva), ekspropriacije za potrebe infrastrukturnih projektov. Bazirana so na hibridnih metodah. Sistem omogoča modeliranje na osnovi primerljivih prodaj, principu donosov, nabavnovrednostnem principu, simulacijah, in ostalih metodah, na osnovi katerih se ovrednoti posplošena vrednost stanovanj, hiš, poslovnih prostorov, industrijskih stavb, kmetijskega zemljišča in posebnih nepremičnin.
Postavljeno 10. december 2009, postavil upravnik strani
WebMet in ACADEMA Application Server
(sistem za napovedovanje vremena)
Napovedovanje vremena je uporaba znanosti in tehnologije za napovedovanje stanja atmosfere v bodočnosti na določeni lokaciji. Ljudje napovedujejo vreme že dolgo časa, formalno pa od devetnajstega stoletja dalje. Napoved vremena je izdelana na osnovi zbiranja podatkov o trenutnem stanju atmosfere ter z uporabo znanstvenih metod ob razumevanju procesov, ki se dogajajo v atmosferi, in skuša predvideti v kaj se bo vreme razvilo (Wikipedia).
In kaj smo mi storili za to? Pomagali smo našim meteorologom zbirati, analizirati in prikazati napovedi na medmrežju in ... (poglej: WebMet on the Net)
Postavljeno 25. september 2008, postavil upravnik strani
ALICE
(Academa's Lite Internet Client Environment) - Release: 1.4
Nova verzija v produkciji nadomestila verzijo 1.3 na javnih servisih. Spremembe: bolj kompaktna koda, več komponent, podpora XML za zazlične brskalnike, ...
Postavljeno 28. januar 2008, postavil upravnik strani
Pregledovanje satelitskih posnetkov
(Tiny WMS/WFS Client) - Release: 0.3.05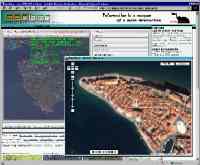 V poletnih mesecih smo izdelali WMS/WFS klienta za namene testiranja našega strežnika. Postavili smo link na Wikipedijo. Sedaj prihaja s te in drugih strani več kot 2500 obiskovalcev na dan. Upamo, da je aplikacija uporabna, izdelana je v Flash-u. Lahko jo poizkusite s tem, da kliknete link.
Kratek opis: Satelitske slike in karte. Iskanje v setu več kot 8.000.000 geografskih entitet iz celega sveta. Različni viri združeni skupaj. Dodatki, kot so: Google maps, Yahoo images search, geolocirane WEB strani, ..., so dosegljive iz aplikacije.
Postavljeno 31. maj 2007, postavil upravnik strani
Primeri naših Web Servisov
V menuju lahko najdete primere naših omrežnih servisov, kot so Atomska ura, kje se nahaja naša pisarna, Sky View Café ali Unit Converter. To so javanski servisi, torej mora biti Java omogočena.
Veliko omrežnih servisov in aplikacij lahko najdete na našem javnem servisu GeaBios. GeaBios je akromin za "Geo Enabled And Better Internet Oriented Services". Več kot 50 omrežnih aplikacij, ki obračajo več kot 200 GB podatkov. Nekateri podatki se ažurirajo vsakih 30 minut, nekateri vsak dan, nekateri pa le enkrat letno. Torej, vse je odvisno od časa.
Čas in vesolje nas fascinirajo, posebno nas, navadne ljudi, ki le živimo pod zvezdami. Kri, znoj, solze in blues so naše življenje. A kje je denar? E, če bi bil pa samo denar, pa teh strani ne bi bilo!
Postavljeno 16. julija 2004, postavil upravnik strani

Podpora večjezičnosti
Naš oblikovalec strani (layout manager) podpira večjezičnost. Jezik strani je odvisen od avtorja. Če je stran postavljena v večih jezikih, boste v zgornjem levem kotu pod menujem zasledili indikator jezikov. Izberite pravega. Če indikatorja jezikov ni, pomeni, da je stran postavljena brez teh možnosti in podpira le prikazani jezik.
Ta stran podpira dva jezika: angleščino in slovenščino. Izhodiščni jezik je angleščina, trudili pa se bomo, da podpremo tudi svoj materni jezik.
Postavljeno 12. julija 2004, postavil upravnik strani
Angleški slovar OnLine
To je dodatno orodje, ki prinese uporabo angleško-angleškega slovarja. Z dvojnim klikom na nepoznano besedo lahko dobite njen pomen.
Najbolj priročno pa je, da lahko pogledate poleg tega še sinonime organizirane po frekvenci uporabe, in še mnogo več. Preden zaposlimo slovar, spravimo besedo v ednino oz. v sedanjik. Če ima beseda več pomenov, dobite vse variante.
Postavljeno 7. julija 2004, postavil upravnik strani
Weather Viewer 2.11
Po opravljenem delu in po veliko vmesnih zastojih, končno z veseljem objavljamo novo različico Weather Viewer. Dodali smo mnogo novih možnosti in celo ugotovili, da je orodje primerno tudi za profesionalne vremenarje.
Postavljeno 27. junija 2004, postavil upravnik strani